A physical manifestation of The Trinidad Legacy, 'The Jungle' classroom will serve as an undeniable reminder of the ambition of The Legacy and its intention to drive a deeper understanding of the natural world, its vulnerabilities and the part our community must play living sustainably in order to protect its future. The Jungle will be a unique learning space and hub, for The Ruth Gorse Academy, Trust schools and for the wider Leeds community. A living classroom like no other in the world, The Jungle will combine the rainforest and learning environments in a way that has never been attempted before:
The Jungle is a state of the art 14 m x 10 m, 3 metres tall glasshouse with an eco-friendly design will be built using sustainable, highly-durable materials (wooden frame, polycarbonate panels).
A central clearing operates as the teaching space, with a horseshoe-shaped lab bench to support demonstrations and exposition. This area is completely surrounded by jungle foliage, so dense that if you follow one of the paths leading from this space you will feel like you are standing in the heart of the rainforest- creating a truly immersive multi-sensory experience that captures the sights, sounds and smells of the South American rainforest.
Students will be surrounded by a host of animal as well as plant species, everything from leafcutter ants to geckos and marine toads.
An integrated river system is used to feed sprinklers that maintain humidity at 90%, refilled with nutrient-rich drainage from the terrestrial areas.
A hidden PA system will create the sounds of the rainforest for a truly immersive experience.
Facilities include cabinets for housing chrysalids, as well as a humidity-resistant lab bench for in-situ microbiological studies with light microscopes.
Bespoke Schemes of Learning and standalone lesson plans and resources designed by expert Science teachers and created to match the ecosystem within The Jungle will help to illuminate the Science behind it.
Areas surrounding the perimeter of the classroom space would be heavily planted with high-growing rainforest plants. To include banana trees, producing two large bunches of bananas per year with a total yield of approximately 400 kg of bananas per year. Other signature tropical produce to include cocoa, coffee and turmeric.
A waterfall in one corner, falling into a shallow pool attached to a shallow, 40 foot- long river which traces along the side of the classroom area on two sides until it reaches an aquarium-type tank where water sampling will take place in experiments carried out by students.
The Jungle will be available to support students with specific learning needs, with sessions extending from The Hub, as well as the entire South Leeds community.
Care for the environment and the world around us as well as care for ourselves and our community are pivotal to the ethos and character of Ryecroft academy and this important project will be integral to the further development of this ethos and aspiration.
The conservation garden will have two clear purposes. The first is creating an environmentally friendly habitat designed to enable pollinating insects to flourish and thrive. Second is a determination to create an area which enables us to grow produce in partnership with our community (particularly the elderly and toddler groups) which facilitates giving generously to our community. Shared growing and planting will also be a further worthwhile focus of our parent and child bonding sessions.
At the same time as focusing on the establishment of our own onsite conservation project, we will be following a parallel project in the diverse, different and exotic eco system of Borneo. This connects to the work of our partner secondary school and will see pupils and students working alongside one another. The parallel conservation project will purposely link to pupils learning about how their choices can influence a distance and vulnerable ecosystem.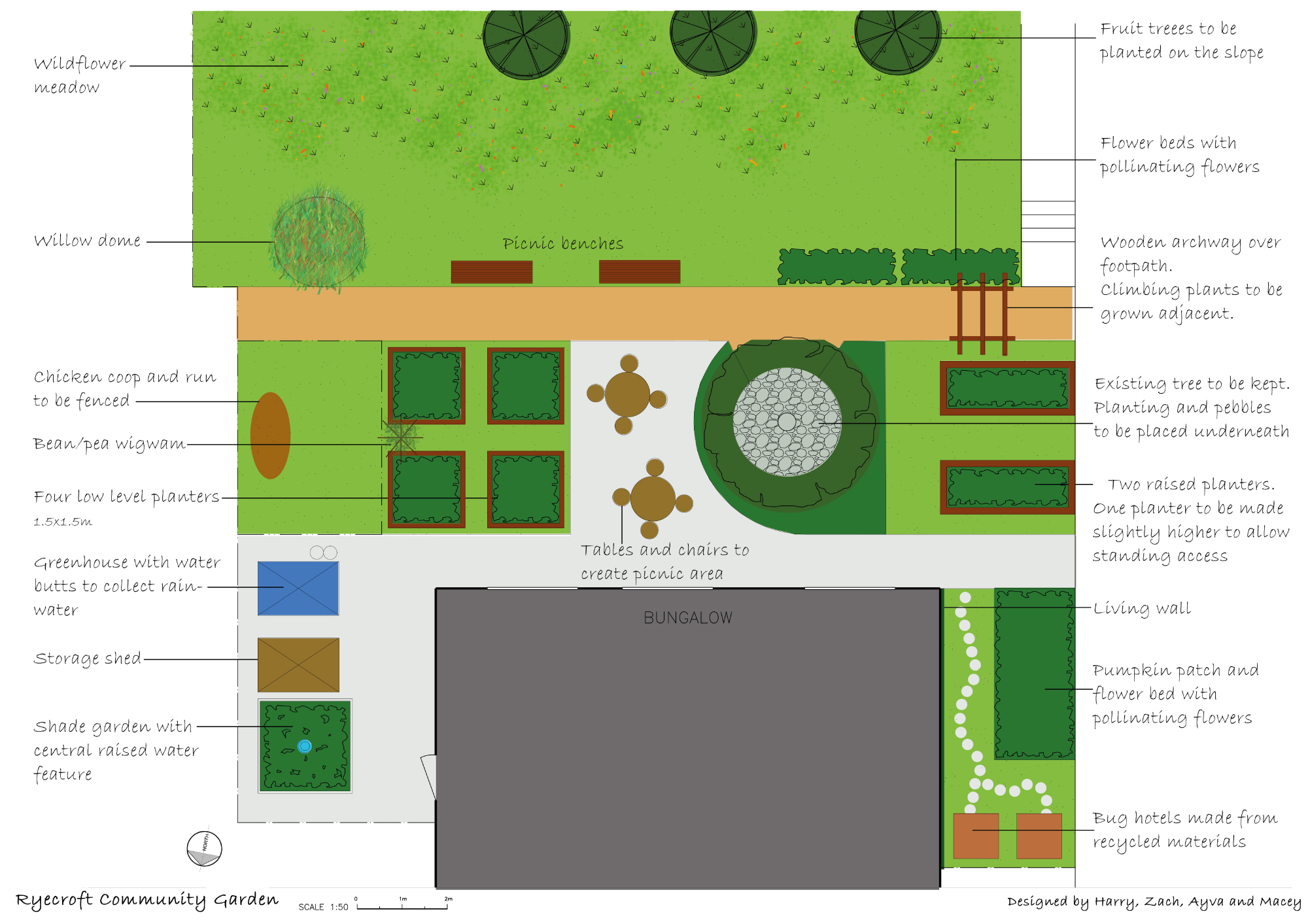 Rewilding is the large-scale restoration of ecosystems to the point where nature is allowed to take care of itself. Rewilding seeks to reinstate natural processes and, where appropriate, missing species – allowing them to shape the landscape and the habitats within.
Nature is our life support system, it's the air we breathe, the food we eat, the water we drink, the energy that sustains us. And it's in trouble. Wildlife is in dramatic decline. Species extinction and catastrophic climate change threaten all life on Earth. We must take action.
Sitting on a large site, Bruntcliffe Academy is currently exploring the possibility of rewilding a proportion of its land with the hope of creating a positive and lasting impact on the community.